Entretelas offers advice, design and tailoring to professionals.
Entretelas offers the possibility to tailor the theatrical costumes that best suit your needs.
We have a wide and intense experience in both private and public events, amateur and professional. Our customers range from large theatre companies to small and cultural organizations.
We cooperate with local councils in the design and implementation of well-known cultural projects and popular parades and also with private companies in the advertisement and exhibitions sectors. From vintage clothing to contemporary, fantasy, accessories, foam dresses, millinery…we adapt to all types of projects and budgets.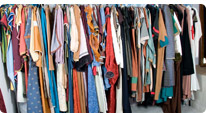 If you have a project and would like to learn more, please do not hesitate to contact us.
We are specialist in tailoring wardrobe for parties, fairs and shows.
Trust our expertise to know what is appropriate for each event.